For immediate release: March 4, 2010
Doris McCarthy
Selected Work; Paintings, Drawings and Prints
Opening: March 6, 11 am – 5 pm

Cavendish Beach, P.E.I 1985 36 X 48 inches oil on canvas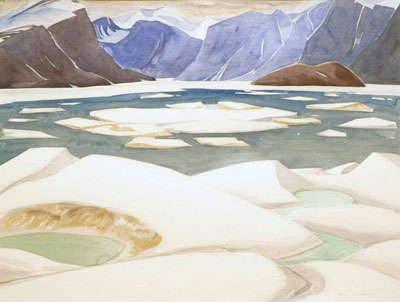 The Fjord, Pangnirtung 1989 20 x 24 inches watercolour

Thunderheads Over Barrachois, 1956 20 x 24 inches watercolour
We are pleased to announce an exhibition of selected works by Doris McCarthy. The exhibition will include watercolours, oil paintings, sketches, drawings and woodblock prints from the 1930s to 2006.
"I was brought up on the nursery rhyme about Monday's child and Tuesday's child, and since I was a Thursday's child I took it for received truth that I would have "far to go" and do a lot of traveling in my life."
Could truer words have been said any better than by Doris McCarthy's in the first sentence in her autobiography, "A Fool in Paradise"?
McCarthy has traveled far and long. Now in her hundredth year and looking forward to her birthday this coming July, we celebrate this remarkable artist with her annual March exhibition.
We will take a leaf out of Doris' book going to some of the places, both near and faraway, seen through Doris ' eyes. McCarthy's first year long sketching and painting trip to Europe came in 1950. We are fortunate to have several works from that trip, including the watercolour, White Sands at Morar, Ireland. McCarthy returned often to Ireland , most recently (and over 50 years later) for the sketching trip during which she painted Overnight Snow, included in this exhibition.
The seminal abstract work that McCarthy created in the 1960's, without which the monumental Arctic paintings would not have developed, is represented here by two key works, Fall (leaves at Causeway, Haliburton), and Wave Movement #8, 1969 (pictured above). McCarthy's working process can be discovered with the spirited sketches also from the 60's.
In this exhibition, with works from sea to sea to sea, from PEI and Newfoundland to the Queen Charlotte Islands, to Pangnirtung in the Canadian Arctic, and abroad, from Ireland to India , one can see that Doris has indeed traveled far.
In the catalogue for Doris McCarthy, Everything Which Is Yes, the inaugural exhibition at the Doris McCarthy Gallery, University of Toronto at Scarborough, 2004, she is quoted as saying; "Every painting that I do is done with passion and love, not only of the subject but of every step in the process. To me the real question is whether it speaks to you, the viewer, and enables you to share that experience."
July 7 is Doris McCarthy's 100th birthday. To celebrate this occasion, a major exhibition of McCarthy's work is being organized by The Doris McCarthy Gallery in collaboration with The University of Toronto Art Centre at the St George campus, and curated by Nancy Campbell. Several other venues are under development. The exhibition is scheduled to begin in late June. A comprehensive publication is planned to accompany the exhibition.
McCarthy is the recipient of the Order of Canada and the Order of Ontario, as well as numerous fellowships and honourary doctorates from institutions across Canada , including the University of Toronto and the Ontario College of Art and Design. She was also named the first Artist of Honour by the McMichael Canadian Collection. There are several books on McCarthy, including Celebrating Life: The Art of Doris McCarthy, published by the McMichael, and her original 2-part autobiography A Fool in Paradise and The Good Wine, published by McFarlane, Walter & Ross. There is also an hour-long docu-drama Doris McCarthy: Heart of a Painter, by W. Wacko Productions. Currently in print are Doris McCarthy: My Life, (an abridged version of McCarthy's two-volume autobiography), written with Charis Wahl, and Doris McCarthy: Ninety Years Wise, by Doris, both published by Second Story Press.
Please note, on Saturday parking is available in the 401 Richmond building lot, located at the rear of the building. Enter off Richmond St. to the east of the building. The building and gallery can be accessed from the back entrance, off the parking lot. There is also parking available in several lots off Peter St. and on the north side of Richmond St , across from the building.