For immediate release, January 6, 2010
Gerald Ferguson
Last Works: New Chain Paintings and New Landscape Panels
Opening: Saturday January 9
Heather and Doug Ferguson will be present 2-5 pm.
Remembrances at 4 pm.
We are pleased to present the last two series of work by Gerald Ferguson. This work, completed several months before Ferguson 's death last October, will be exhibited as he had intended. Heather and Doug Ferguson will be present at the opening from 2- 5 pm, Saturday, January 9. Several guests, including Monica Tap and Susanna Heller will be sharing their remembrances at 4:00 pm.
Before Ferguson 's untimely death this past October, he had completed and prepared for exhibition, two major bodies of work. The first completed shortly after his last exhibition, is a group of small Landscape panels. Ferguson wrote of this work;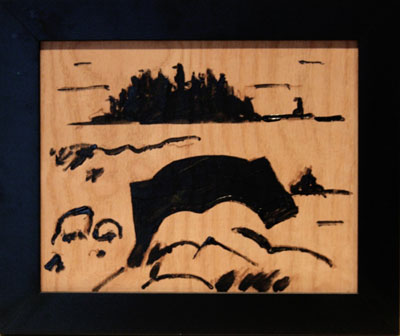 Rock Sea and Island, 2008, 8x10 inches, enamel on panel
"Following the landscapes done with a roller and shown at Wynick/Tuck Gallery last year, I wanted to do paintings on panels with a brush. This was the first time I have consistently used a brush in over forty years. So that the brush would not drag, I primed the panels with mat medium. The panels were inevitably associated with those historical panels we all know and love."
Following this series, as Ferguson was preparing his studio for a move, he came upon some early frottage paintings that inspired him to start a new series. This work is also accompanied with a text;

Vertical Chain 4 (light), 2009, 55 x 48 inches, enamel on canvas
"In going through older rolls of paintings before heading to my studio I came across a chain painting on unprimed canvas. I started frottaging chain on canvas before discovering house painters' drop cloths as a support for the 2002-2003 Drop Cloth Paintings. After looking at the painting for several days I decided to pursue frottaging the same chain in vertical rows with black paint on unprimed canvas. For the length of chain I had, if abutted in vertical, parallel rows, it would take two passes with a roller for to complete a 48" x 48" canvas and two passes plus a bit more for a 48"x 55" canvas [repeated to build up the surface]. I did numerous vertical chain paintings, many of which I threw away.
I then wanted to try the conceit of spiralling the chain as a reprise or echo of my earlier Spiral Hose Paintings (2001 – 2002). Store bought garden hose uncoils naturally into a spiral but heavy chain is extremely hard to form into a spiral. It felt like I was turning a humming bird into a buzzard. To get four paintings that looked right I did many that were terrible. Compared to the smooth, even slick look of the Spiral Hose paintings, this work was crude, like circular saw blades that lost most of their teeth. I liked the gritty look of them a lot."
Sue Gibson Garvey organized and curated the circulating exhibition of the "Gerald Ferguson: Frottage works, 1994 – 2006" for the Dalhousie University Art Gallery , Halifax . Following is an excerpt from her thoughtful forward to the catalogue;
"Thirty-seven years ago, Gerald Ferguson held his first solo exhibition at the Dalhousie Art Gallery. He had arrived in Nova Scotia two years before, in 1968, to take up a teaching position at the Nova Scotia College of Art and Design, where he organized the studio and visiting artist programs that helped make NSCAD the most radical art school in North America in the late 1960s and '70s, and where he continued to teach until his recent retirement. But it is Ferguson 's lengthy and challenging studio practice that has earned him an enduring place in the annals of contemporary art. Throughout his distinguished career, Ferguson has examined the conventions and deconstructed the strategies of painting using minimal means and workmanlike processes. This has led to many remarkable works that maintain a critical posture while at the same time (surprisingly) permitting a subtle beauty to arise. Over the years the public has come to know this work through numerous solo and group exhibitions across Canada , the US and Europe, and more recently through major exhibitions at the Winnipeg art gallery (2002) and the National Gallery of Canada (2000)."
This circulating exhibition will be travelling to additional public galleries. More on the venues forthcoming.