For Immediate Release: October 15, 2009.
Colette Laliberté, Fitted,New Work
Kim Ouellette, New Work
Saturday, October 17
Colette Laliberté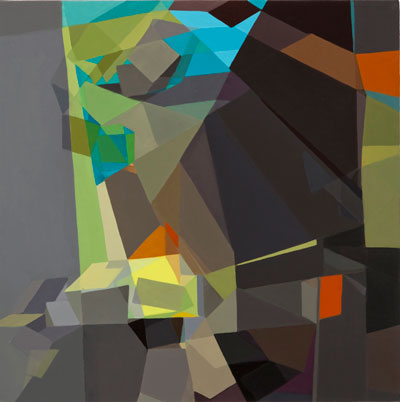 Construct, 2009, oil on canvas, 10" x10"
We are pleased to present an exhibition of new work by Colette Laliberté. Fitted includes new paintings as well as wall projections in collaboration with Simone Jones.
In this new body of work, Laliberté pursues her interest in pictorial illusion and the transformation of architectural experience. Abstracted shapes, inspired from telecommunication diagrams, cyberspace and architectural structures, painted in bright colours and chromatic greys, claim the painted surface. In the midst of these intricate conglomerates, forms that further play with the relationship of flat and illusory space protrude and/or recede. Referencing architecture, stage lighting or the glow of a television set, the vibrant greens and yellows that pierce the pictorial field explore the permutation and theatricality of colour. These combinations of visual syntax compressed in Laliberté's small-scaled paintings defy engineering design rationale and toy with the perception of space as a fleeting moment.
Laliberté's and Jones' collaboration originates from a shared interest in pictorial illusion and the transformation of architectural experience that is common to both individual's work. Issues of temporality, presence and absence are explored through the juxtaposition of paintings and digital animations that are projected onto the walls and ceiling of the gallery space. This calculated interplay between the tangible and the intangible underscores the tension between the plastic quality of painting and the immateriality of light. In addition, the spatial distribution of the paintings and projections within the gallery seeks to confound our perception of two-dimensional and three-dimensional space.
Laliberté and Jones began their collaboration in June 2008 when they were participants in the "Interactivos: Vision Play" workshop at the Media Lab-Prado in Madrid .

Kim Ouellette


Red Glow 2009 ink and thread on reclaimed Hudson 's Bay blanket, 24"x 30"
We are pleased to present a solo exhibition of new work of Kim Ouellette.
Sewn and painted onto scraps of reclaimed Hudson's Bay blankets, Kim Ouellette's vignettes and abstracted landscapes harkens back to a time of explorers and pioneers. The Hudson Bay blankets recall memories of warmth and safety, in overt contrast to the snowy mountains and harsh conditions that Ouellette "draws" on to her woollen canvases. Though now based near Atlanta , Georgia , Ouellette is a native of Winnipeg and her spare works evoke both the mental and physical landscapes of Canada .
This exhibition shows Ouellette experimenting with the thread in an unorthodox and painterly manner, utilizing the texture and colour of the blankets and their inherent nature. In the new work Ouellette has also embraced the use of ink drawing as an integral part of her practice. As well as referencing the landscape and related tales Ouellette moves successfully into pure abstraction.

Hallway Sound Program
Curated by Lynne Wynick. Main floor, 401 Richmond St. W , next to Wynick/Tuck Gallery
Sinoms
Michael Snow
We are pleased to continue the Nuit Blanche presentation of Sinoms, by Michael Snow.
"Sinoms" is a sound work composed and recorded by Michael Snow, originally produced for the exhibition "Paysages Verticaux" at the Musee du Quebec in 1989. Art Metropole's 'new' version is an independent compact disc, produced with the permission of Musée du Quebec. The work manipulates 22 voices reading the names of 34 mayors of Quebec City , beginning with the first mayor Elzear Bedard, elected in 1833. CDs available at Art Metropole or Wynick/Tuck Gallery for $15.00.