For immediate release, May 7, 2008

In The Offing No. 73, 2008, C-print on sintra, 24" x 36"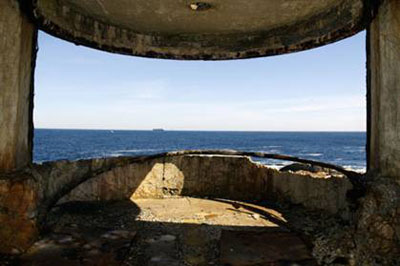 In The Offing No. 65, 2008, C-print on sintra, 24" x 36"
Cora Cluett
In The Offing
May 10 – June 7, 2008
Opening, May 10, 2-5pm
We are pleased to announce an exhibition of new photographs by Cora Cluett. Well known for her paintings of recent years Cluett has turned to her roots as a photographer for this exhibition.
As in her painting Cluett reveals the abstracted layers of a history. In this case she has chosen the decaying pillboxes, (bunkers), loaded with remembrances and touched by many generations. Her viewpoint is the same in all the works, pointing to the cut in the abstracted surface, out to another sight. The results, much like her ongoing painting practice, are sensuous and eerily beautiful.
Cluett says about her work:"Coastlines are places where people arrive and leave; they are also places which are geopolitical and militarised - the pillbox is the bared teeth of the mouth between two continents and a totem of the last great military movement that drove many Europeans to settle in Canada. The photographs in this exhibition stem from an ongoing body of work - I have been documenting the sites of and remnants of W.W.II pillboxes (or bunkers) that line the coasts of Nova Scotia and Scotland. I have chosen these two places because of their coherent historical connections as well as my own personal history with both places - I grew up in Nova Scotia, lived in Scotland, and also, my father was in the navy during W.W.II.
The title of the exhibit refers to an old nautical term the offing which is the outermost edge of the sea that you can see. The phrase 'in the offing' means something that is in the not too distant future, away from you but also, coming towards you. In many of the pillboxes that I have documented, the encroachment of nature and urbanisation has obscured what would have once been very clear views out of the pillboxes. These photographs introduce duality's such as past/present, decay/beauty, here/there, abstraction/mimesis through a juxtaposition of the graffitied and decaying walls of the inside of these structures against an exterior landscape or seascape. These structures and their location are for me, filled with melancholy - are falling into ruin and being demolished by neglect."
Cluett's work has been included in exhibitions and in public gallery collections extensively here and abroad, including, most recently, Beyond/In Western New York, at the Albright Knox Art Gallery, Buffalo, New York and the Art Gallery of Nova Scotia, Halifax. She is currently assistant professor for the Fine Art department, University of Waterloo. Her photographs will be the focus of an exhibition at the Kitchener Waterloo Art Gallery in July. 2008

Grise Fjord, 1976, watercolour, 15" x 22"
Doris McCarthy at WKP Kennedy Gallery, North Bay, Ontario
A solo exhibition of recent work focusing on the north is currently on view at the WKP Kennedy Gallery, North Bay's public gallery, May 1 – 30. Following is the text from their site:
This is an exhibition of recent works from legendary artist and arts activist, Doris McCarthy. The work is taken from the collection of the Wynick/Tuck Gallery in Toronto. These paintings are from several series of recent works, and reflect the theme of "Arctic Reflections"
For more information visit www.kennedygallery.org