For immediate release, January 18, 2008

Gerald Ferguson
Canvases
January 19 – February 16
Opening , January 19 2-5pm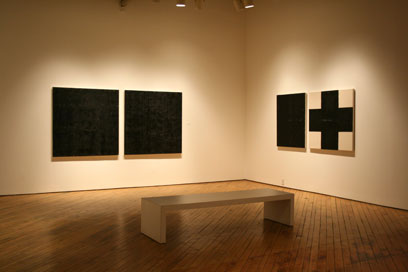 Gerald Ferguson, Canvases, Installation, West Gallery, L. 19 Canvases (Equivalents), R. 8 Canvases (Equivalents), 2007

We are pleased to announce a solo exhibition of new work by Gerald Ferguson, to be presented by the Wynick/Tuck Gallery, opening on Saturday, January 19, 2008, 2-5 pm.
Ferguson continues to develop the frottage (rubbing) technique in this body of work using various sizes of mass-produced art-store stretched canvases as his subject. Laying down such everyday, mundane items, covering them with his own artists' canvas and rolling over it with black paint to produce an 'image', Ferguson has produced rich abstractions.
Since Ferguson's last show at the Wynick/Tuck Gallery, The Dalhousie Art Gallery in Halifax, has mounted a major survey exhibition of Ferguson's paintings, Frottage Works, 1994 – 2006, May 10 – July 1, 2007. The exhibition will travel to several other public galleries in the next year and a catalogue will accompany the exhibition.
In her catalogue, Director/curator, Susan Gibson Garvey states, "The process of frottage has provided Ferguson, late in his career, with an unusual yet simple technique and an exceptionally rich and productive period of work. For Ferguson, "frottage" involves placing a roller loaded with enamel paint over the surface. The resultant "rubbing" takes on the textural characteristics of the object and, in Ferguson's hands, is transmuted into an iconic image that appears to take up a dialogue with important Modernist works (tweaking, for example, early Modernist Matisse and Miro, or reprising moments of high abstraction, from Rothko to Newman). … Ferguson's agenda has always been to question authority and meaning in painting - not in order to destroy it but to press it to the brink – to discover (over and over again) if painting can be so assailed and yet retain its once unique role as a purveyor of meaning and beauty."
.